Transforming through AI-enabled engagement
This Deloitte Insights report, published in Feb 2020, examines the AI technologies in Clinical Trials and is the third in a series, the first is an overview of AI in biopharma and the second is on AI in drug discovery.
If you haven't read the Intelligent Clinical Trials report then don't worry! This article aims to provide the key points.
AI has the potential to transform key steps of clinical trial design from study preparation to execution towards improving trial success rates, thus lowering the pharma R&D burden.

Artificial Intelligence for Clinical Trial Design
Main application areas
Protocol design
Patient selection
Recruitment and retention
..Where the use of Real World Evidence (RWE) is used to enrich trial-specific data to optimise patient search, recruitment and retention.
The use of real-world data brings challenges including data interoperability and adoption of open and secure platforms, and consumer-driven care.
FDA guidance to industry
The FDA have published guidance for industry entitled "Enrichment Strategies for Clinical Trials to Support Demonstration of Effectiveness of Human Drugs and Biological Products." The purpose of this guidance is to assist industry in developing enrichment strategies that can be used in clinical trials.
Clinical trials of the future
FDA is already planning for a future in which more than half of all clinical trial data will come from computer simulations.
This is a future where phase 1 trials are done in-silico i.e. using a simulation of a human body, and phase II/III trials become remote decentralised clinical trials (RDCT) which use AI-enabled technologies to allow bigger, more diverse and remote populations to participate – as envisioned by the European Innovative Medicines Initiative Trials@Home project, launched in December 2019.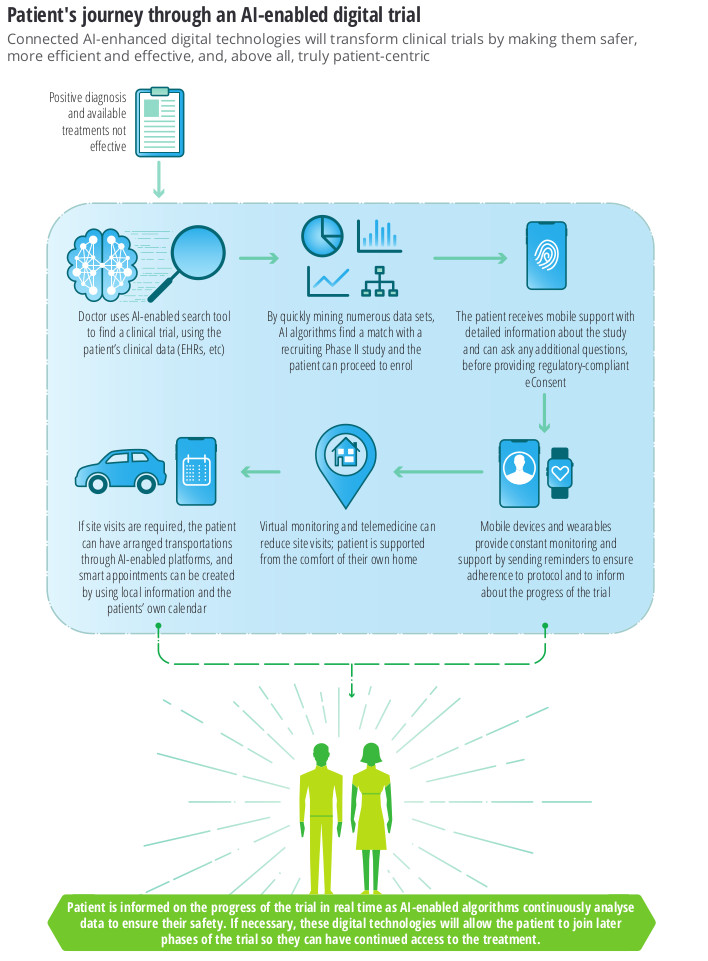 Real-world data (RWD)
In April 2020, Apple and Google announced a partnership to enable interoperability between Android and iOS devices using apps from public health authorities.

In the coming months, Apple and Google will work to enable a broader Bluetooth-based contact tracing platform by building this functionality into the underlying platforms.
This is an indication of the scale of real-time, real-world data that will be available to enrich regulated clinical trials in the future.
Summary
The benefits of AI for Clinical Trials centre around the optimisation of protocols, patient recruitment and retention
This change will involve enriching clinical data with new sources of real-world data (RWD)
Phase I trials will be run as in-silico computer simulations, and phase II/III will become virtual, decentralised clinical trials
Regulatory authorities have already started publishing guidance to industry.
For the next few years, RCT's are likely to remain the gold standard for validating the efficacy and safety of new compounds in large populations.